Today, women care more about the health and appearance of their entire bodies – including the most intimate areas. Recently, there has been a significant increase in procedures designed to improve the look, feel and function of the vagina and surrounding structures. According to the American Society of Plastic Surgeons, vaginal rejuvenation is one of the most rapidly growing areas of plastic surgery. At CIARAVINO Total Beauty, we care about helping you look and feel your best throughout the seasons of your life. Vaginal rejuvenation, also known as vaginal reconstruction, is one more way we can increase self confidence as well as improve your quality of life overall.
---
Feel your best, because you deserve it.
Fortunately, there are ways to restore the vagina to improve a woman's appearance, function and confidence both in and out of the bedroom. Our doctors at CIARAVINO Total Beauty offer options in vaginal rejuvenation surgery that can be tailored to your precise needs and desired outcome.
Through aging, childbirth or weight change, the vaginal structures can relax and stretch. In some cases, the labia (vaginal lips) may extend to the point they protrude out of the vagina. No matter what the culprit might be in these changes, they can lead to the following issues:
Inability to wear bathing suits or snug clothing due to worries the labia is visible
Discomfort when performing activities like riding a bike or horseback riding
Pain or loss of sensitivity during intercourse
Difficulty wearing tampons due to vaginal wall laxity
Itching or irritation due to labia rubbing against clothing
Avoidance of intimacy because of embarrassment about your body
Urinary incontinence (leaking urine when you cough or sneeze)
Our doctors offer both labiaplasty and vaginoplasty for their patients in search of vaginal rejuvenation. The procedures can be performed individually or at the same time, depending on your needs. Both treatments are safe and performed on an outpatient basis under anesthesia. The recovery is also quick and relatively comfortable. At your initial consultation, you will discuss each of the procedures and the results you can hope to achieve, which will help you create the right treatment plan for you.
What is Vaginoplasty?
Vaginoplasty is done to tighten vaginal wall laxity by removing the excess vaginal lining and tightening the surrounding soft tissue and muscles. During the procedure, our doctors will create a wedge-shaped incision in the vaginal wall so that they can tighten up tissue and muscles to create a tighter pelvic floor. Extra mucosa skin located in the back of the vagina can also be removed to improve the appearance of the vagina as well as your comfort level.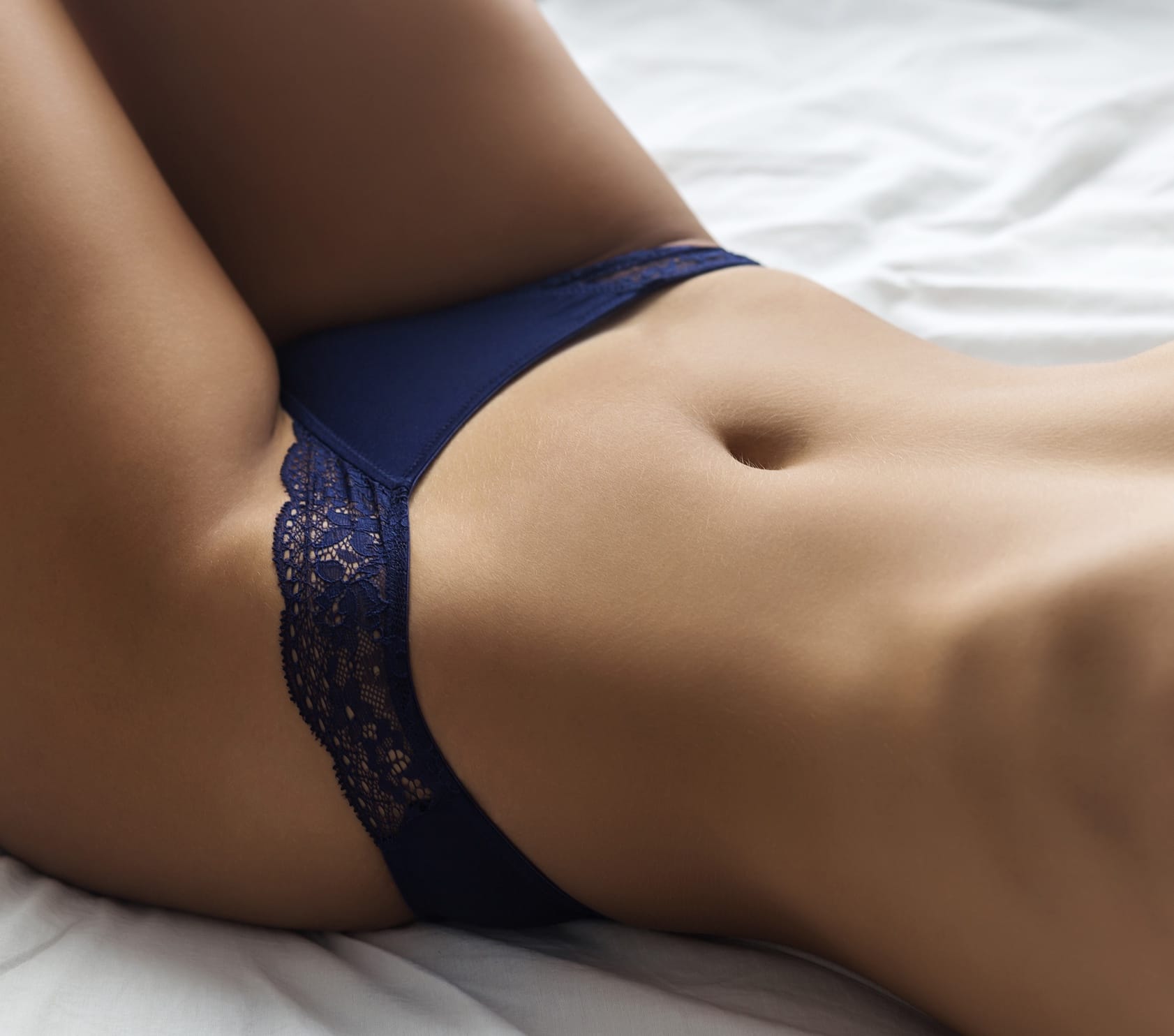 How are the Procedures Performed?
Our doctors can perform both labiaplasty and vaginoplasty using local anesthesia to reduce your risks during and after surgery. If you prefer, sedation can also be used to keep you relaxed and comfortable throughout the procedure. When a single procedure is performed, it will generally take 60 to 90 minutes.
If the two procedures are performed at the same time, the full duration of the surgery will likely be around 2.5 hours. You will be able to go home to recover within a few hours after your surgery.
What About Recovery
and Results?
There is some discomfort associated with both labiaplasty and vaginoplasty, so our doctors will encourage you to take a few days off to rest and heal. You will have oral pain medication to keep you comfortable, and you may use ice packs to reduce swelling and discomfort for the first few days. We will also advise you to elevate your hips when lying down to further minimize post-operative swelling.
Most women are able to return to the majority of their activities within about four days. Strenuous exercise will be restricted for about three weeks to give the area ample time to heal. Our doctors usually allow patients to resume intercourse and tampon use within six to eight weeks. The results of vaginal rejuvenation should be very long-lasting, with women enjoying their enhancements for many years in most cases.
---
Women considering vaginal rejuvenation are often hesitant to address their concerns with a doctor due to embarrassment or self-consciousness. Rest assured that our doctors and staff have extensive experience performing these procedures and are committed to ensuring you are comfortable and well cared for throughout the entire surgical process. From your first consultation until your last follow-up, you will be treated with nothing other than compassion, professionalism and the highest standard of care at CIARAVINO Total Beauty. To schedule your initial consultation and find out if vaginal rejuvenation is the right choice for you, contact our office today at 713.627.1200.
One of the world's leading breast implant surgeons






© CIARAVINO. All rights reserved.