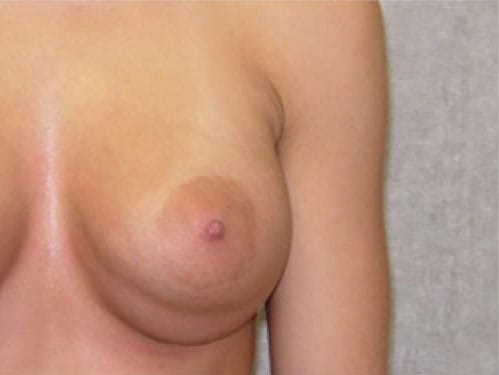 After breast augmentation, a deformity may occur which is typically called "double-bubble." This term refers to a condition in which a crease has developed across the lower part of the augmented breast creating two distinct breast mounds, thus the term "double-bubble." This unattractive result is often related to poor breast implant placement during breast augmentation.
---
How does "double-bubble" happen?
Double-bubble often occurs as a result of the previous inframammary fold (breast crease) indenting the lower section of the breast following breast augmentation. It is common in patients with constricted (tighter) lower breasts, those with very sharply defined natural breast creases, and those with a shorter nipple to breast fold distance. In these cases, the deformity becomes obvious as the breast implant is too large and extends below the natural breast fold.
Breast conditions that
can lead to double-bubble
Some of the more common breast conditions that can lead to double-bubble include:
Tuberous breasts
Implants placed too high
Implants too large for body size
Excessive scarring
Capsular contracture
Excessive scarring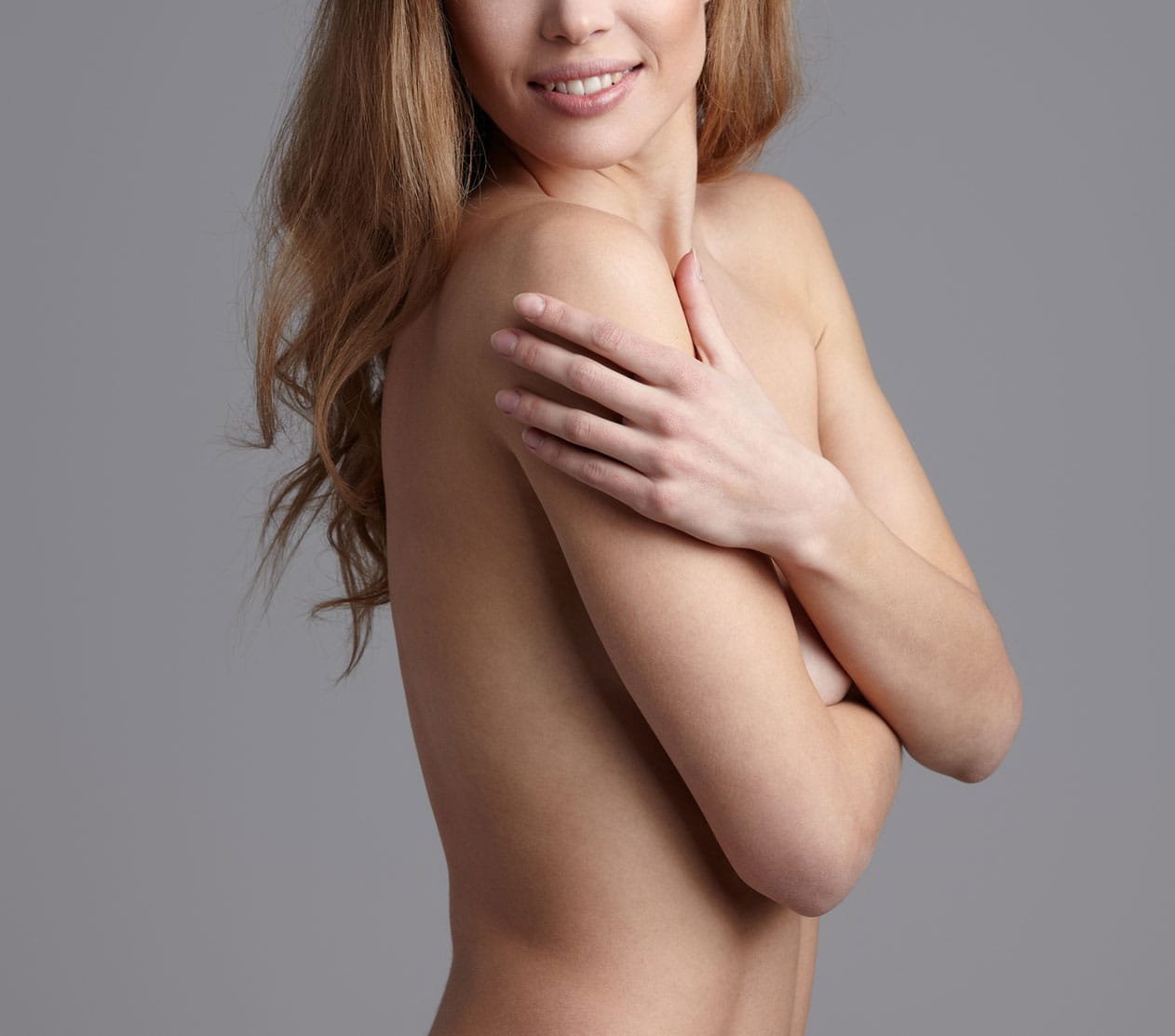 Double-bubble breasts
after augmentation can be resolved.
Another common cause of double-bubble is when the breast implant remains in a high or even normal position, but the breast tissue and nipple sags downward. This can be seen in patients with sub-pectoral (beneath the muscles) implants or who have extensive scarring leading to capsular contracture that holds the implant up while the natural breast tissue descends. This can occur immediately after surgery or over time as a result of pregnancy, weight change, or gravity.
Beautiful Results

Patient

Models
Beautiful Results

Before

& After
How do you correct
"double-bubble" breasts?
To correct double-bubble breasts, the treatment will be based upon how it occurred, and the extent of the severity of the problem. While some mild cases may improve without surgery, many will require surgical correction.
In cases where the previous inframammary fold indents the lower breast, surgery is often performed to revise the breast pocket and revise the breast fold.
---
Some cases benefit from changing from sub-pectoral (beneath muscle) to sub-glandular (beneath breast tissue) implant position or by changing implant size. In cases where the breast tissue has drifted off the breast implant, a breast lift (mastopexy) may be required. If capsular contracture is responsible for the deformity, a capsulectomy (surgical removal of scar tissue around the implant) and breast implant exchange may be the best approach to resolve the problem.
Double-bubble breasts –
you don't have to live with it.
As with many breast deformity cases, double-bubble correction is a challenging, yet extremely rewarding type of revision breast surgery performed frequently by our doctors. The first step is a private consultation, so the problem can be evaluated to determine what must be done to correct your breasts and restore a natural, plump, rounded look.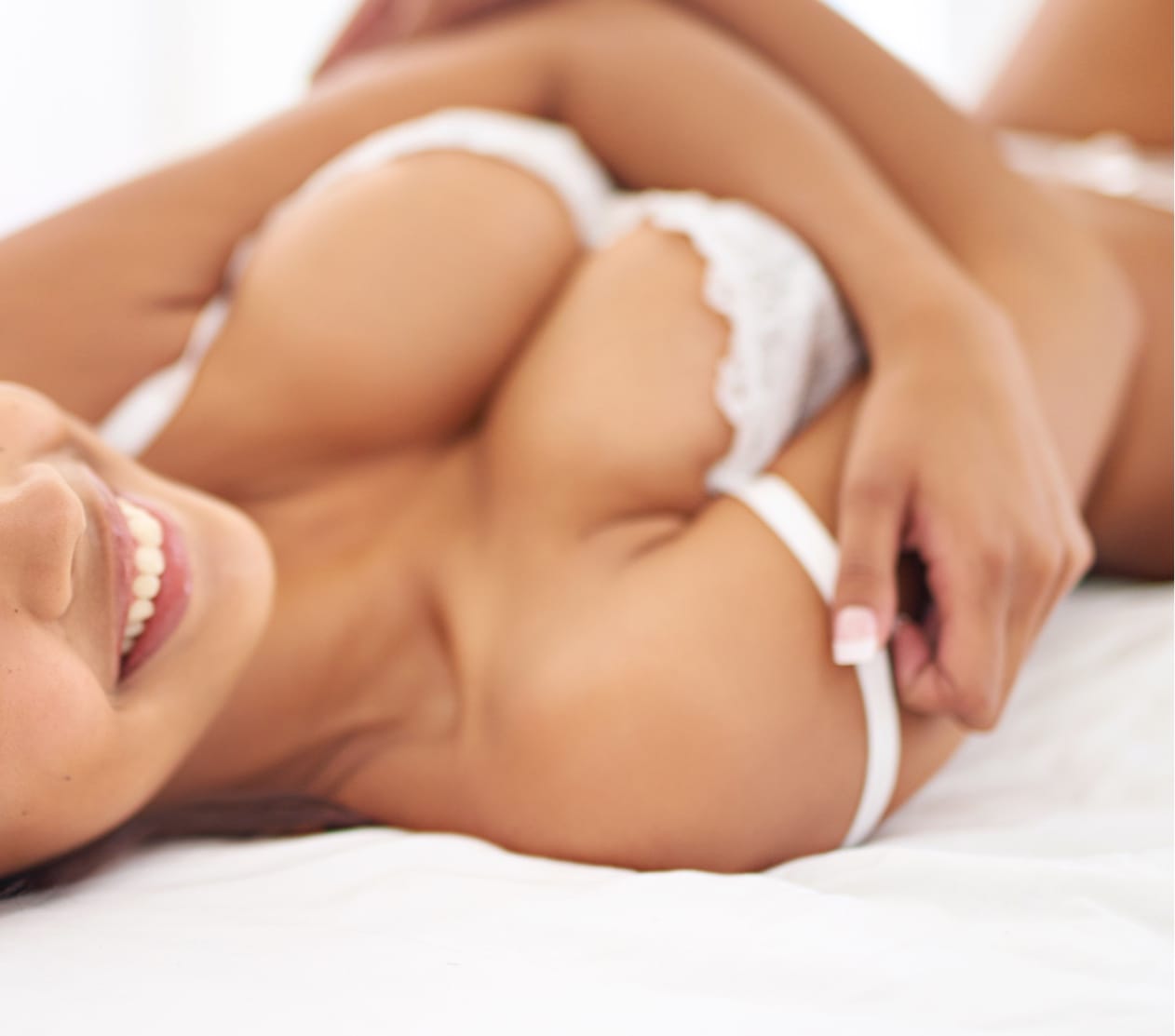 Why choose
CIARAVINO Total Beauty?
Our doctors are some of the world's most respected authorities on breast augmentation, and some of the most experienced breast surgeons on the planet, having performed more than 10,000 breast augmentation procedures.
Dr. Mohan's meticulous approach to surgically correcting double-bubble breasts can finally bring you relief from this embarrassing condition. At her private practice in Houston, expect a world-class experience, and beautiful results, and a speedy recovery.
One of the world's leading breast implant surgeons






© CIARAVINO. All rights reserved.