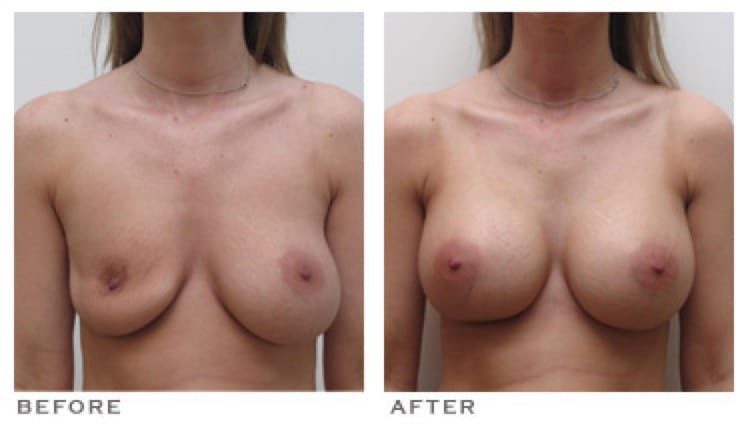 Breast implant rupture is when a hole or tear in the implant occurs, allowing the silicone gel or saline solution to leak into the implant pocket. The condition can occur due to trauma, capsular contracture, extreme stress on the breast during a mammogram, or poor techniques that affected the implant shell in augmentation surgery. It can also simply occur over time.
---
When a breast
implant deflates…
Saline implant deflation: Implant rupture (or deflation) is when the shell of a breast implant develops an opening or tear, potentially allowing the saline to be released from the implant. When saline breast implants deflate, it is usually easy to notice. Either the breast dramatically loses size, or it becomes loose and develops wrinkles The saline that leaks is out harmless and is absorbed by your body.
Silicone breast implant rupture: Rupture of silicone gel breast implants can be more difficult to detect. Because the gel is thick and cohesive, there is usually not a rapid change in size. While some patients will have "symptomatic" ruptures that include hardening or pain, some might experience visible changes in shape or decreased size, and some experience no changes whatsoever, as the gel is cohesive and remains within the surgical pocket.
Beautiful Results

Patient

Models
Beautiful Results

Before

& After
Oh no! Why did my
breast implant rupture?
Saline and silicone breast implants that are currently used for breast augmentation are extremely durable and expected to last for many years. However, they most likely will not last forever. Just like any manmade devices, there comes a time when they wear out or break. Some common reasons breast implants rupture include:
Auto accidents, trauma
Implant damaged during surgery
Older implants
Passage of time weakening silicone shell
Textured implants have a higher rupture rate
How Dr. Mohan can help
you have beautiful breasts, now.
Although it is not an emergency, a ruptured silicone gel implant or saline breast implant deflation should be removed and replaced in a timely manner. This requires going to the operating room, removing the ruptured implant, and thoroughly cleansing the area. Other modifications can be made at that time to improve the overall appearance. Many patients will also use this opportunity to change the breast implant size or type.
Are your breast implants under
warranty? Most likely, yes.
Fortunately, both saline and silicone breast implants come with a lifetime warranty against rupture or deflation. In the event of a rupture, the manufacturer will provide free replacement breast implants and may also cover a portion of the operating room fees.
One of the world's leading breast implant surgeons






© CIARAVINO. All rights reserved.