After breast augmentation, a deformity may occur which is typically called "double-bubble." This term refers to a condition in which a crease has developed across the lower part of the augmented breast creating two distinct breast mounds, thus the term "double-bubble." This unattractive result is often related to poor breast implant placement during breast augmentation.
Before & After
Patient 5145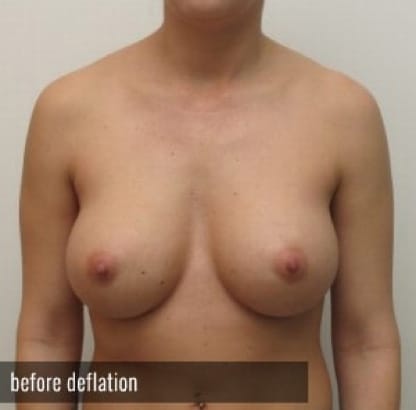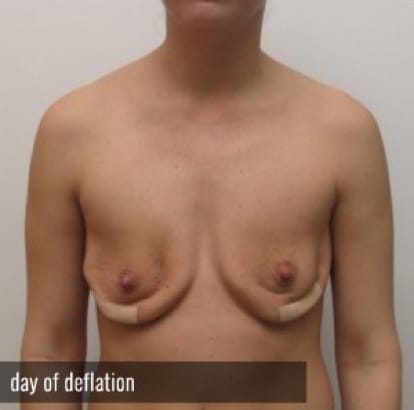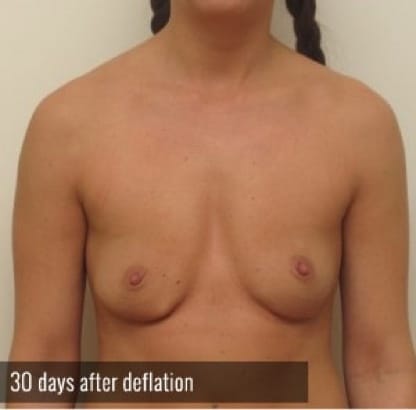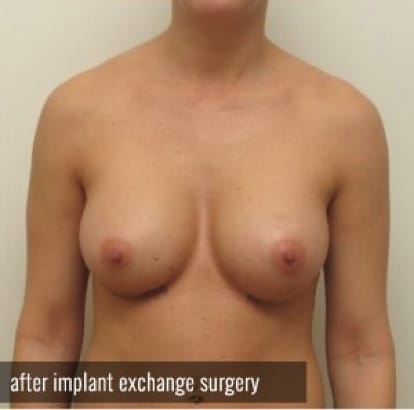 Patient 5138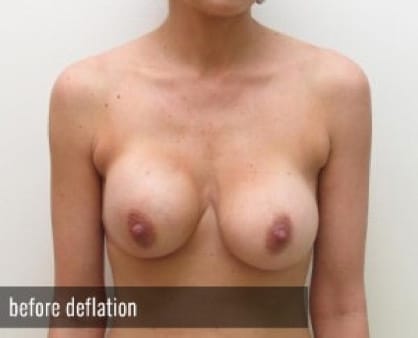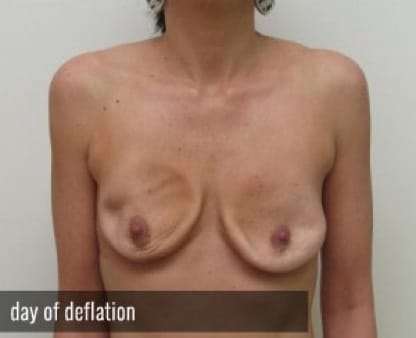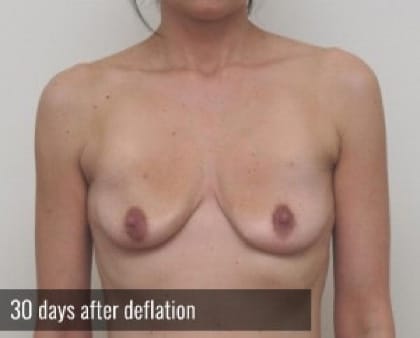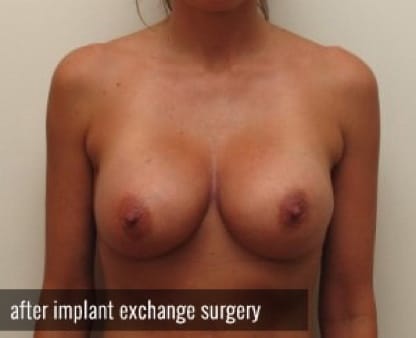 Percutaneous implant deflation is an advanced, non-invasive method by which larger saline implants can be removed and replaced. This may be necessary due to stretched skin, wrongly-positioned implants, capsular contracture, or other aesthetic or medical problem. The saline solution in the implant is extracted from the implant with a specialized process prior to implant removal, limiting scarring.
Do you currently have
saline implants and are

ready for a change?

If you have saline implants and are unhappy with some aspect of the implants, whether too big, uneven, sagging, or other issue, Dr. Mohan performs a specialized implant removal process that achieves an ideal result.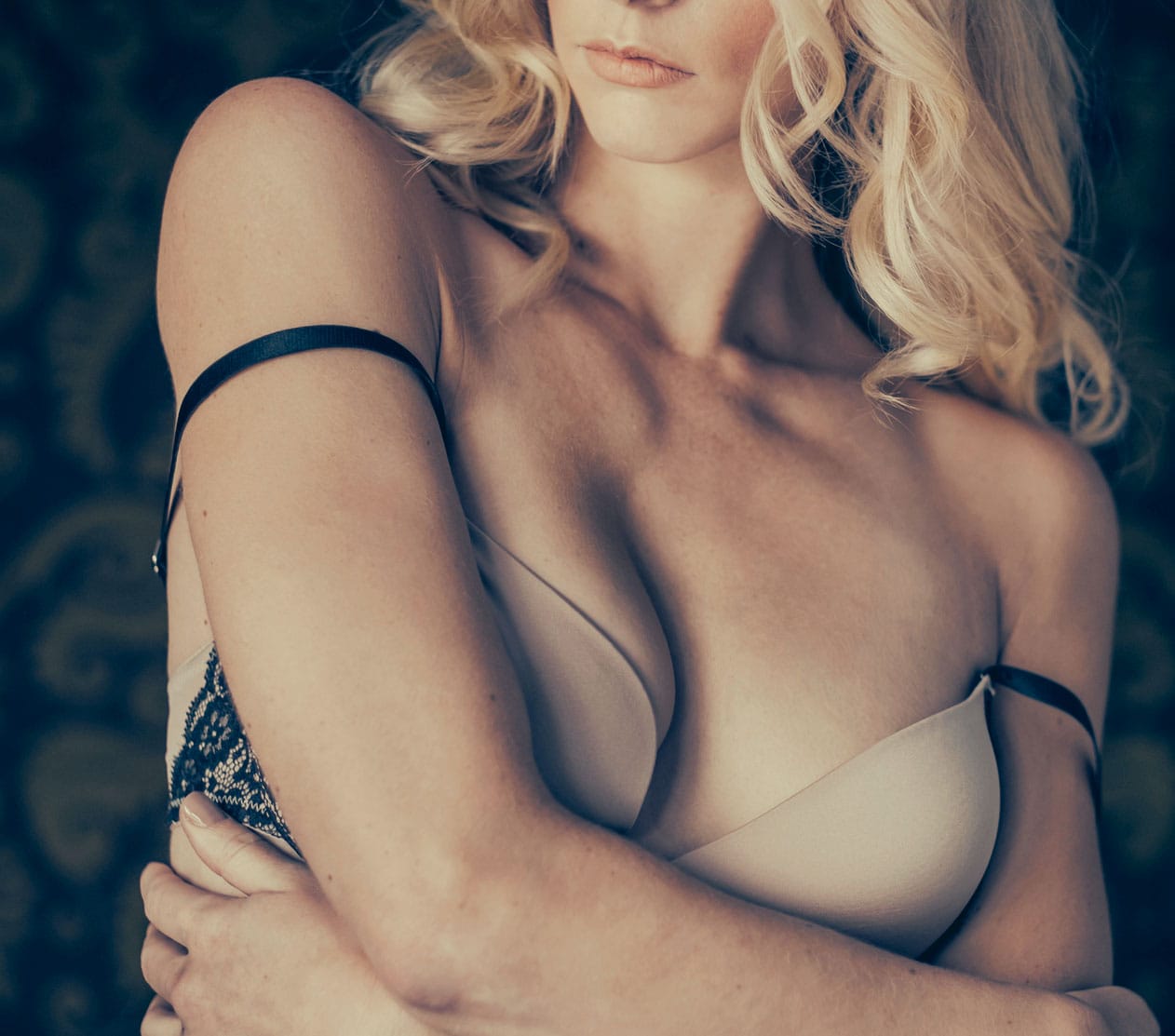 How does percutaneous
implant deflation work?
The procedure is called a "percutaneous implant deflation." Basically, the deflation is done by injecting a small area at the small area at the bottom of the breast with lidocaine, so you are comfortable during the procedure. A tiny needle is then used to puncture the implant. Suction is used to remove the saline from the implant.
Ointment and band-aids and an ace wrap for compression are then applied. There is little to no downtime and you may resume normal activity immediately following deflation. It's recommended you wear a compression wrap or some type of compression garment up until your surgery.
Removing and replacing
saline breast implants
Many women make the decision to have saline implants removed, often to resolve some problem, or simply to replace with softer silicone, or to reduce implant size. When removing saline implants, several techniques may be used, but the most effective, and least invasive, is performed by Dr. Mohan, percutaneous implant deflation.
This procedure allows for a fast, effective removal of the implant, after which new implants can be placed, or the natural breast tissue reshaped and restored to create an attractive, natural breast mound.
Beautiful Results

Patient

Models
Beautiful Results

Before

& After
What is the recovery from
percutaneous implant deflation?
Your recovery will be similar to what you experienced in your primary augmentation surgery if you are having your implants replaced or a breast lift performed after deflation and removal of your saline implants. You will need to rest and limit your physical activities for several weeks. Our practice uses advanced surgical techniques that allow for faster healing.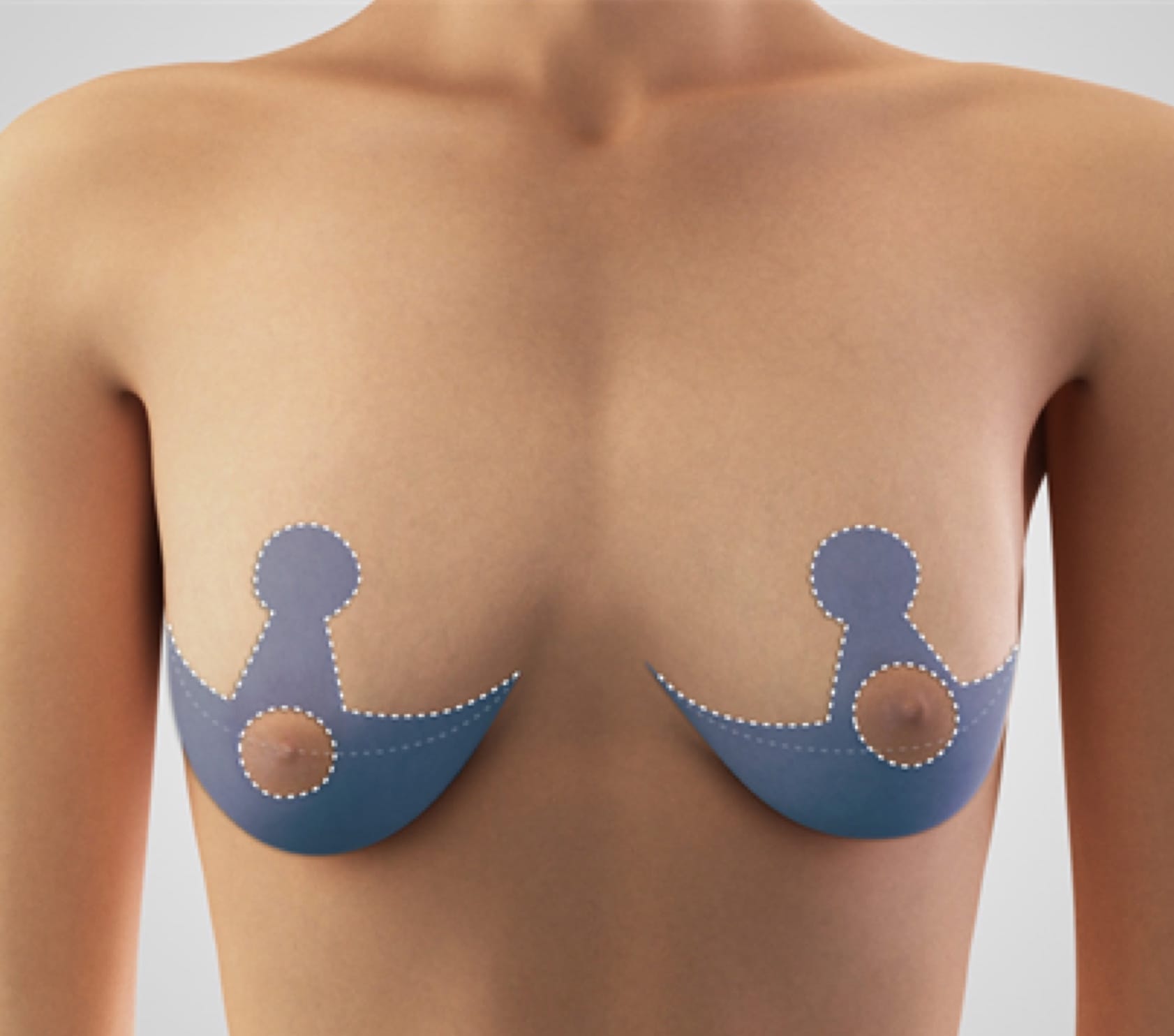 Why choose CIARAVINO Total
Beauty for saline implant removal?
If you need to remove or replace saline implants, it could not be more important that the procedure is performed with the most advanced techniques for faster healing and better results. As the leading breast revision specialist in Houston, you can be confident that your procedure will be performed with accuracy, precision, and care. Call today for more information.
One of the world's leading breast implant surgeons






© CIARAVINO. All rights reserved.